What to wear turkey hunting is always a major consideration for anyone before going to hunt. Generally, you would see that most hunters who love turkey can be distinct from those that hunt other animals. In this article, you would learn how to prepare for turkey hunting such that you would record a high level of effectiveness in your hunting adventure.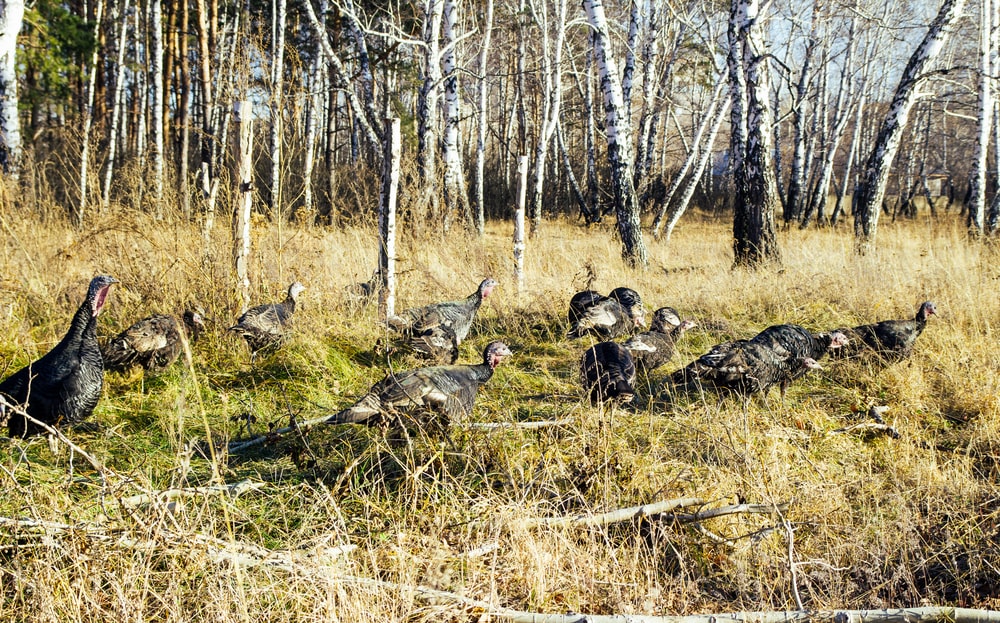 Disclosure: This post may contain affiliate links. As an Amazon Associate, we earn from qualifying purchases if you shop through the links on HunterExperts. For more information, read full disclosure here.
What To Wear Turkey Hunting 
A striking feature of turkeys is that they can see clearly from a far distance. Hence, it is always better to conceal oneself as a hunter by using the right hunting wear. Before we proceed with this content, it is important to say those wild turkeys are different from the domestic ones, even though they share a similar appearance.
Nevertheless, they have major differences that make the wild turkeys ideal for hunting. Wild turkeys are paranoid and elusive poultry with great sight. Due to these features, they are not so easy to hunt and have emerged to be favorites for several hunters.
It is often suggested that you disguise using camouflages and blends in your hunting site. As a result, what you wear becomes important to record great success in the hunting field. It all begins from the top of your headwear to the sole of your boots; you should give more attention to every single piece of apparel that you are putting on. Let us dress you up.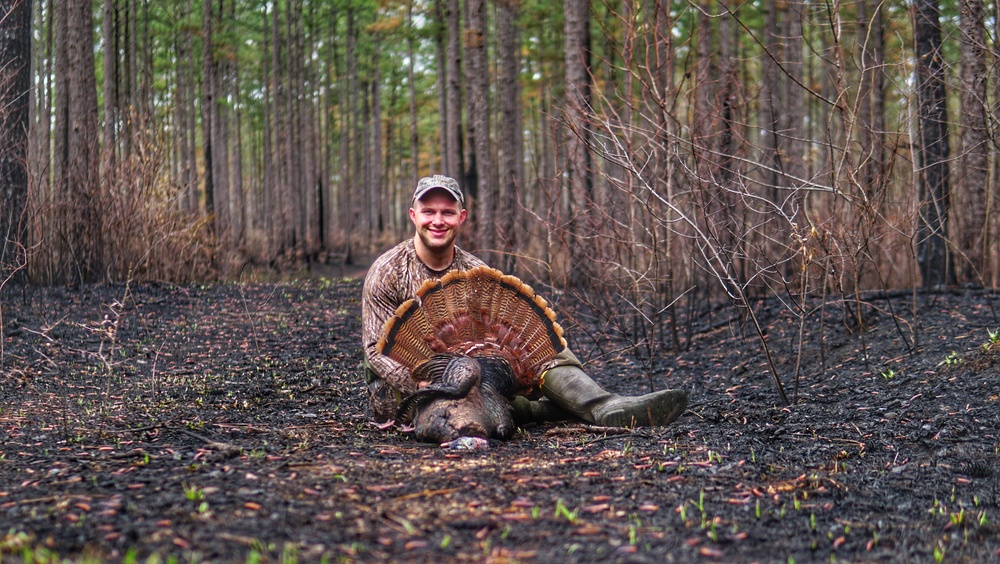 Boots
If you have to consider the best turkey hunting boots, you must be sure about the terrain you want to hunt. If the environment is rocky or rugged, you should use boots to have maximum support. If the terrain is flatter, a rubber boot is good enough for you. 
A major thing to consider is the weight and comfort level of the boots. You may be hunting the birds at this time, and by the next moment, you may have to be on a long run with them. Hence, you need boots that you can easily carry.
You should also consider the season you are hunting. The weather and temperature of spring weather are uncomfortable. Hence, you need a high level of insulation to stay warm during this time. You can wear a pair of light socks too during this springtime.
Tucking your pant legs into your boots will help to maintain an unbroken camouflage. So, you should wear your boots always to reduce your chances of being seen by those turkeys. Boots begin your turkey hunting clothing.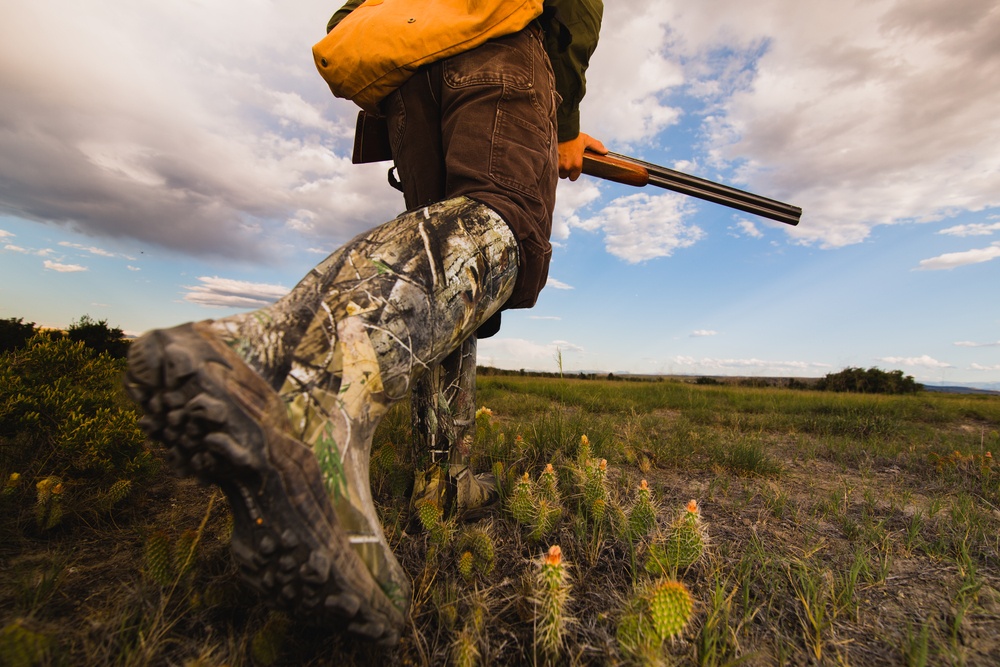 Pants
For the best hunting pants, you should wear something quiet, lightweight, and with a complete camouflage design. If you are worried about the cold season, you can go for insulating materials. You can also layer your turkey hunting pants with baselayers. 
There are pants made from waterproof – you should go for them as they will be pivotal during the spring season. Many toms are still always in the field if the rain is light. Hence, your waterproof pants will be pivotal for you to stay outside and hunt the turkeys in this condition.
Considering the hunting field, you can go for pants that are bur-proof and cactus-proof. They will come in handy as you may have to crawl on the ground to disguise them. A durable pant is all you need in this condition.
Jacket or Shirt
Hunting turkey can be all day long. However, the weather conditions and season are important considerations, and then layering is a valid solution. You can avoid being under the weather in the early hours of the morning because the temperature is frigid. A jacket with proper insulation is the appropriate choice at this moment, but it can be camouflaged.
Every clothing should be turkey hunting camo. You should layer every part of it with camouflage in case there is a strip at any part.
What should my camouflage be like?
At this juncture, it is obvious that every part of your pant should have full camouflage. On the other side, if your camouflage is wrong, it has the same effect as no camouflage. You would agree that two hunting sites have varying colors. You should choose a similar color of the vegetation for your clothing.
You should consider the varying colors that may come up as the vegetation may change. You have many patterns to pick from and for you to blend in.
Some locations are governed by the game laws of their states. Some people wear fluorescent orange while sitting and moving. You should be sure if the same regulation applies to your district.
Face, Gloves, And Head
You should camouflage your hands and face to have a high level of success. You should keep these areas away because they can be visible due to their movement all day. The gloves should not be camouflaged alone but should be lightweight.
The gloves should support a firm grip too. You can hold an extra pair during cold temperatures or due to rain. You can cover your face with face paint or a net. Nets are hunting masks but with holes in the mouth, nose, and eyes. You can opt for paints if you think the net will be uncomfortable.
Frequently Asked Questions 
There are important questions to answer while preparing for turkey hunting. Notable ones include;
What color should you not wear when hunting turkey? 
It is important to know the colors that are accepted in your environment. Some hunting rules expect you to wear specific colors. However, the rule does not apply to every state or district in the country.
Similarly, you should avoid some colors like white, red, or blue. A fellow hunter may mistake you for a turkey as the colors are similar. Always stay safe and focused while hunting for yourself and others.
Do I need to wear orange during turkey hunting? 
Wearing orange depends on your hunting region. In some places, it is compulsory that you wear orange to be identified as a turkey hunter. Nevertheless, you can be flexible with whatever you want to wear in some other places. In as much as you got the high-quality hunting pants on you, you are good to go. 
Can you wear black while turkey hunting? 
Of course, you can wear whatever color you think you want to wear. However, it is not advisable that you wear black while turkey hunting. You would agree that many turkeys are generally black. Hence, there may be no distinctive color if the hunter wears black.
Also, wearing black could be convincing to other hunters. It is not safe as they may assume one is a turkey and would have shot the target with the best crossbow for turkey hunting before realizing otherwise. 
Is camo necessary for turkey hunting? 
It is better to wear camo because it is the perfect way to disguise during turkey hunting. From the top of your head to the best hunting boots, you can be dressed in camo. It will help to effectively hunt down the turkeys. 
What camo is best for turkey hunting?
Just ensure you are going for a quality product as your camo wear; any camo should be ideal for you. However, you should consider the common color that would blend well with your hunting site.
Do turkeys see color? 
Yes, they do. Turkeys have bright vision such that they can see objects and colors from far away. Some bright colors could piss them off too.
Do I need gloves for turkey hunting? 
Well, using gloves for hunting may not be as important as knowing the best turkey calls. However, you can try thin gloves on and see if they suit perfectly for your hunting. Also, you may need them to stay warm during hot days. 
Summary
Preparing for turkey hunting is as important as hunting on the field. Do not forget, "poor preparation always prevents poor performance."