You would agree that even the best shooters can go off target while shooting. However, you cannot ignore missed arrows. That would be an extra expense for you. Of course, you may be tired or frustrated from a poor training session, and searching for missed arrows is the last thing you want to do.
This article makes things easy because it provides all the details you need on how to find lost arrows. Now, follow through.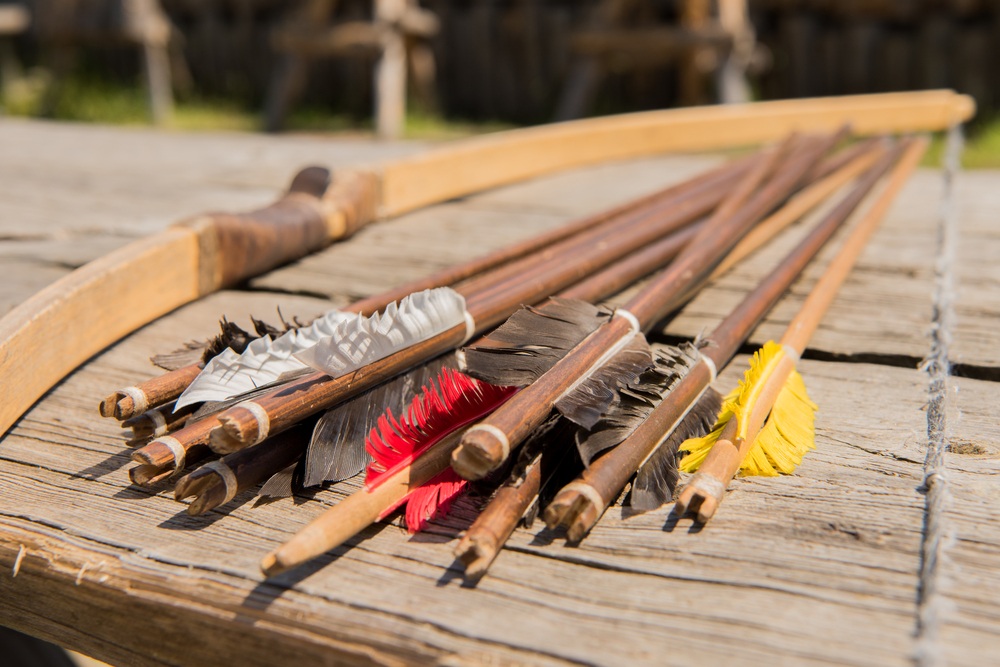 Disclosure: This post may contain affiliate links. As an Amazon Associate, we earn from qualifying purchases if you shop through the links on HunterExperts. For more information, read full disclosure here.
How to find lost arrows
For a beginner, the struggle to not lose arrows is a difficult task. There must be constant and consistent practices to prevent losing more than half of the shooting arrows during practice. Here are essential tips that will prevent even a beginner from loosing an arrow or more.
1. Practice in a good environment
A good environment is inevitable for shooting arrows. It is necessary to use a great environment for any sporting activity. Much more, for shooting an arrow, it requires open space to ensure maximum safety.
One may ask, how does a good environment apply to how to find lost arrows? A good environment for shooting arrows should have the following features;
A ground with short grass
An area with a drop off or ledge
A sloppy ground as natural back-stops
Open space up to 150m and width of 50m
Practicing in such an environment makes it easy to find missing arrows because the grass is low, the area is wide, and the space is open.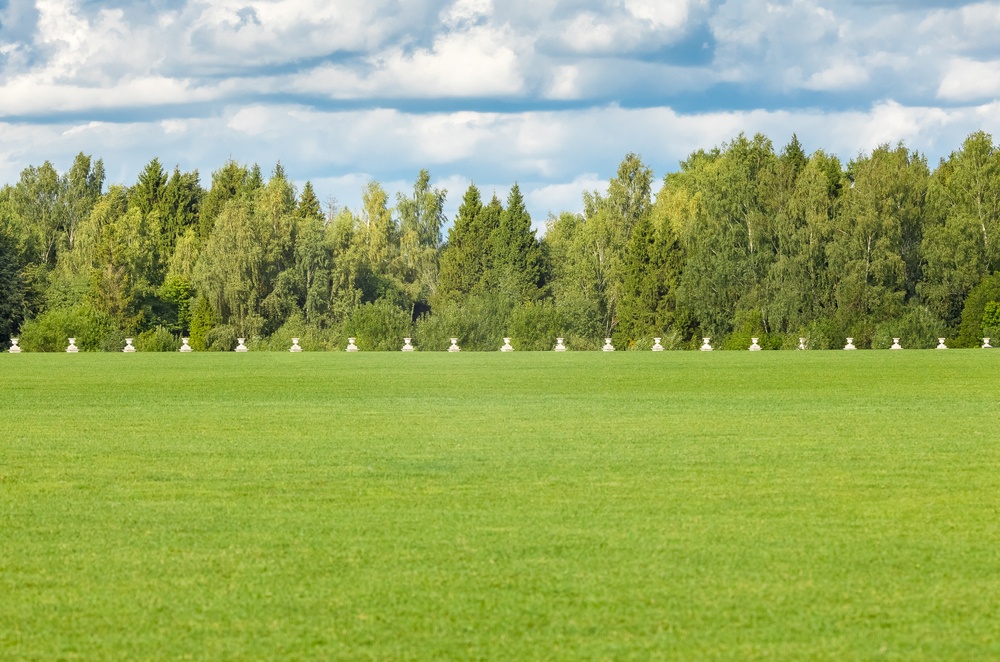 2. Focus on every area of the shooting ground
An error many shooters make when trying to recover arrows is to pay attention to the ground. It is logical to check the ground for missed arrows, and you would find most of the arrows on the ground. However, the goal is to recover all missing arrows.
Your arrows can get stuck in other areas of the field like branches, leaves, and sides of a tree. Also, you would agree an arrow can bounce, ricochet or change its course upwards. So, focus on every area of the shooting ground and not check the ground alone for missing arrows.
3. Always look for missed shots immediately
Sometimes, shots could go away from targets. You will most probably find an arrow easily you cannot see from your shooting point if you look for it at that moment. Procrastinating implies that you may go through more rigorous activities to recover them or never recover some till another day.
Once you miss a shot target, drop your bow and go arrow hunting. After all, it is always a new start to shoot arrows. Pay attention to where a stray arrow is heading. It could be under the ground, covered by dirt or grasses.
Another effective way to retrace a missed shot is to note the number of arrows you brought to the shooting space. Ensure you do not leave the practice ground unless your number of arrows is complete.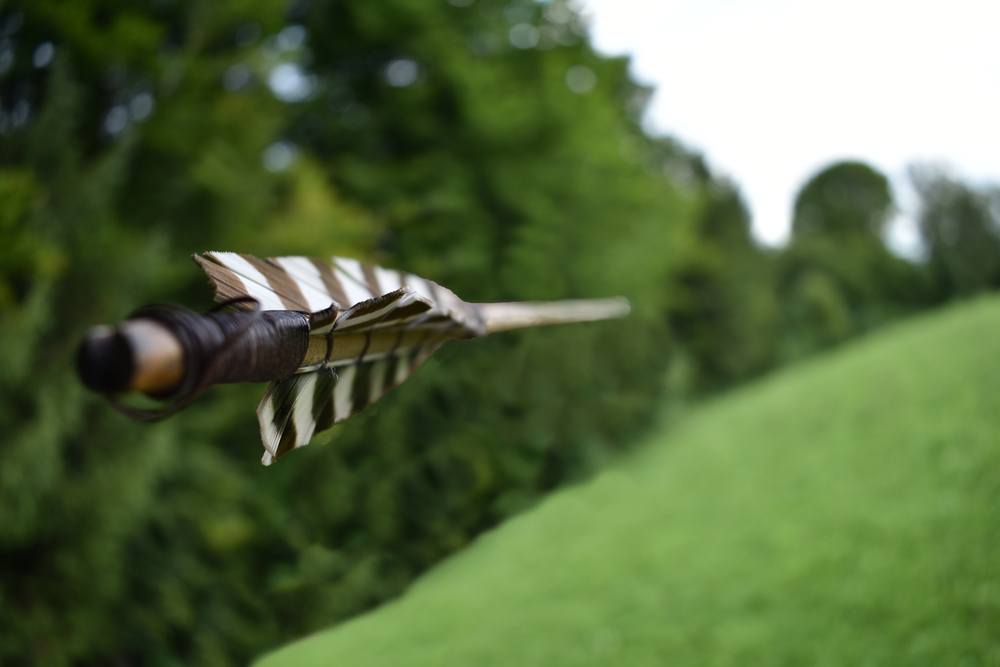 4. Make use of bright or irradiated nocks
Irradiated or bright nocks are essential and ideal for dark places. They are almost weightless arrows and do not affect the arrow's balance. Nonetheless, after you have shot such an arrow, it becomes illuminated.
You can use it during the day and wait till evening to pick your arrows. Similarly, it is perfect for evening time use. You can easily recover them with their LED lights which can be on for a whole day. They come colorful and appealing to the eyes.
More so, arrows with bright colors like yellow or white will make it easy to find them on several terrains. You can purchase your appropriate color at an archery shop. However, consider the unique color of your immediate environment.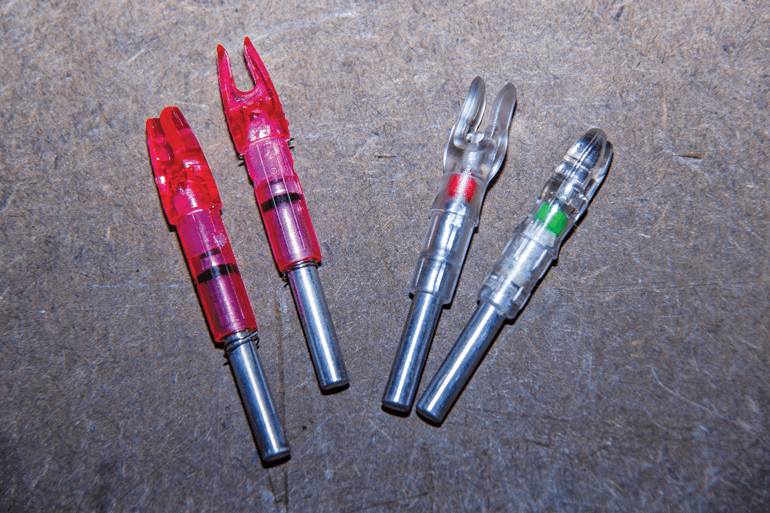 5. Barefoot or rake technique
You can search your lost arrow archery using your barefoot or a pair of soft leather boots. Barefoot does not only aid your shooting. It also allows you to feel the arrow in between the grass. Nevertheless, walking barefooted might not be advisable because of its injury risk.
To avoid any injury, a good option is the use of a rake. Using rake is a good answer to how to find lost arrows in the wood. You only need to pull the grass over and cover a large area within a short time to recover your misfired arrows.
6. Get an arrow catcher
If the range is yours, you can fix an arrow catcher behind the target. It is like a carpet that stops the momentum of an arrow after going beyond the target.
All you have to do is lay the carpet or catcher behind the target. You can go ahead and shoot your arrows while being self-confident that the carpet will collect the missed arrows. A missed arrow can lead to a serious type of bowhunting injury.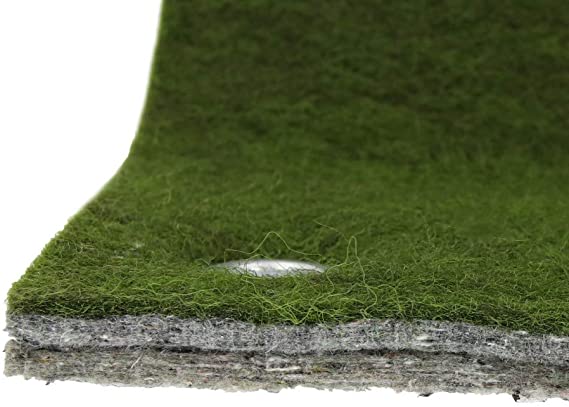 7. Employ a metal detector
A metal detector will not only work with a metallic arrow, but it will locate wood or carbon arrows. This is possible because the field points are metallic too. It is affordable and durable.
Using a metal detector is to walk in the direction of shooting action. Once the metal makes a sound, it has detected the arrow. It saves time and energy. It is a top-notch recovery device.


8. If you can, use your dog
Do you have a dog? Can you train it to recover missed arrows? Then, you are good to go.
There are easy ways to make it easy for the dog. You can rub the arrows with scents and make the dogs search. Well, you can train them to search without scents, but that might take some while.
9. Use the help of others
Just like you can use devices and your dog to recover the missing arrows, you can also use people. For several reasons like safety and fun, it is great to shoot with people of like passion. If you have a kid or young person who loves going to treasure hunt with you, let them join you to search.
If there are two or more kids, you can speed up recovering arrows by promising them different prizes or rewards. The reward could be for the highest recovered arrows. You only need to shoot and give the children gifts while they search for you.
FAQ
The most common question people who shoot arrows ask is how to find lost arrows in the wood. Another is, what animals can you hunt with a bow? Additionally, there are other frequently asked questions people randomly ask. An important one is;
How to find arrows in the grass?
Grasses are tricky and can hide lost arrows. One can have a dozen of arrows and, in two training sessions, can account for only eight arrows. However, if there is deliberate and conscious effort to recover lost arrows in the grass. Here are some tips;
Ensure the grass is short: it is easier to see your missed arrows within short grass than when it is longer. An average archery club has short grass, soft ground, and a freshly cut lawn. This makes shooting barefooted perfect, and recovery of an arrow is easier.
Have an embankment: an embankment is an end you shoot at. An embankment is a definite end for your arrows and not a random shooting into the grass. Ensure the embankment is a good material safe for your arrow and not one that will break them.
Get better at shooting: a beginner will record more missed shots than an expert. You will lose more arrows when you do not hit the target. As a beginner, practice to be better at hitting the target and do less arrow search after training. A big target will make things easier.
Brightly colored vanes and nocks: brightly colored vanes and nocks will make missing arrows more visible because the color will stand out. Most people use white arrows because the grass is green, and white is a more obvious color in a green terrain. Do not use dark colors, like grey, black, or other shades of green.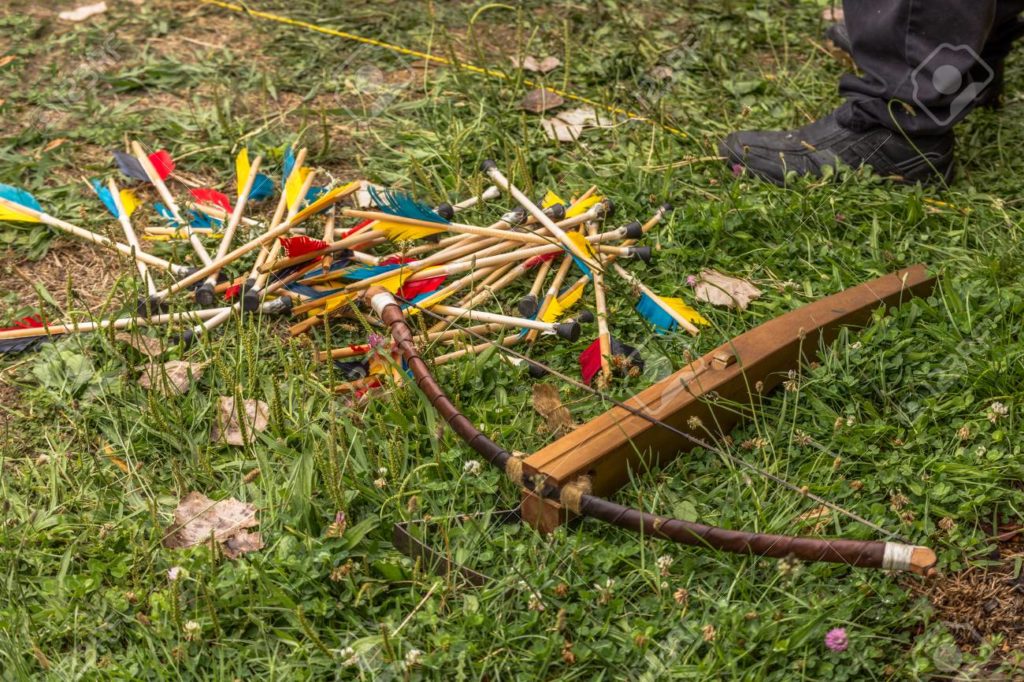 Instead of this, some equipment like a metal detector, bright nocks and vanes, a bigger target, and embankment were mentioned. These items are top-notch, come with great quality, and will improve your archery skills.
Finally, the article will ensure you keep a good environment that is perfect for archery. Short grass is appealing to sight and has no risk of being a dangerous site. Finding lost arrows in the wood or grass should not be difficult if you closely follow the article.
Summary
This content is ideal for a beginner and a professional at shooting arrows. It answers all the questions and clears all doubt about how to find lost arrows in the wood. This article aims not to prevent arrows from missing but to encourage you to be a better shooter.